eMagin Introduces Virtual Reality Visor!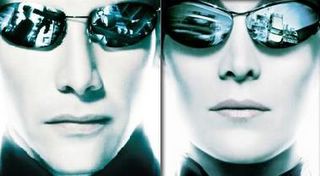 If your mother ever told you not to sit too close to the TV, you can finally tell her to fuck off with the new 3D virtual reality visor by eMagin. Using patented organic light-emitting diode technology, the eMagin 3D visor will make computer eye-strain a thing of the past... and visor eye-strain the wave of the FUTURE!
"During the first couple months of testing, we kept having trouble with peoples' eyes just falling out," chuckled Project Engineer Toby Fallsworth, "but I guess that problem kind of fixed itself eventually. Intermittent problems are weird like that."

The Z800 Visor's two OLED displays track the movement of the user's eyes and head to allow a 360 degree viewing-angle, and can draw power from any standard USB port. The Visor's resolution is equivalent to viewing a 105-inch screen from twelve feet. Given, nobody mentioned what kind of 105-inch screen, but as Ghandi always said, "Its the size that matters."

Lead Designer Allen Peterson let the editors of Discouragement in on a little secret, "I snuck this circuit in the visor... everybody thinks its a hue adjuster, but it transmits false memories to the user on ultraviolet wavelengths. People are going to be so totally messed up, its gonna be awesome! They'll be like, 'Hey man, where'd my desk go?' and the other guy'll be like, 'Man, you don't work here get the fuck outta here.'"


Infosync World has more on this remarkable device.