Global Warming led to Disosaur Extinction.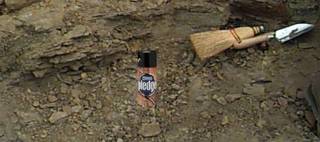 "Guilting human mammals about global warming gets us a total shitload of funding," explains environmental engineer Galvin Chipman, "so we're super pissed about this new discovery."
Recent studies by the University of Washinton indicate that greenhouse gases (not the now-vindicated meteor impact) led to the extinction of the dinosaurs...along with thousands of less-interesting species of life. While many scientists argue that volcanic eruptions were the clear cause of the deadly pre-Triassic global warming, many say it's just not that simple...
Lance Trapper, an archeologist for Hostess, was one of the first to protest. "You don't know how many times I've been on a dig, and right there on the same strata as a Pterodactyl or T-Rex is this fossilized can of Aquanet, or some broken packing peanuts. It happens all the time, it's just that nobody thought it was worth mentioning until now."
Shaun Stolzer of Exxon Research and Devolpment agrees, "
Everybody
knows that dinosaurs totally fucked up the pre-Triassic period. I'm so pissed at dinosaurs, if one walked in here right now I'd be like, 'Bwwhhaaaah-Hah!', and totally drop-kick his ass."
Newindpress.com
covers the story in detail.