Samsung Mocks Consumers with Awful Product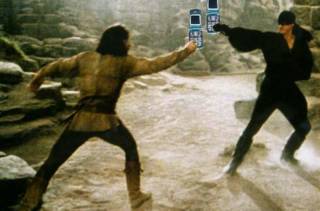 (
Photo: Samsung reps demonstrate dialing the new SCH-S310.)
As Thomas Edison so cleverly put it, "The purpose, nay, the
responsibility
of technology is to confine a brilliant idea within a shitty cell phone that is nightmarishly difficult to use."
Samsung revolted loyal supporters this week by announcing a new paradigm for telephone dialing. Say goodbye to bothersome
buttons
you actually have to
press
. Wave adios to user-friendly voice dialing! Samsung now enriches your dialing experience by forcing you to
wave your cell about you
wildly in a vain attempt to air-draw the numbers you are trying to dial. Zorro would be so proud.
Shaku Jow, the spokeperson for Samsung, was unable to comment on this breakthrough as he is being detained by Japanese police after reportedly breaking an elderly bystander's nose while attempting to call information. Samsung's lawyers argue, "That guy was so old, in a few hours his nose probably would have broken by itself."
I swear this is a real product.
Look
.